Shop our unique and tasty gifts and treats that is sure to delight that most passionate of chocoholics!
Number chocolate lollipops to celebrate that special birthday, bespoke options available.
Beautiful, Unique and tasty chocolate favours and gifts from Maple Molly's for every occasion! Each of our favours are handmade using the finest Belgian chocolate and are not only unique, they taste great too!
Please see our hundreds of testimonials from delighted customers.
Take your time and browse our online store for some great ideas or contact us to discuss your bespoke requirements.
You can either email at info@maplemollys.co.uk or call on 0116 2837202.
Remember to follow us on Facebook to keep you updated with our FREE giveaways and special offers.
We can ship your order right to your door. Maple Molly's is an online-only store, but if you are local you are also welcome to collect.
We only source the finest ingredients for our recipes, so your favours and gifts will not only look good, they will taste great too! Our favours are totally versatile to your needs, and can be made to match your colours and theme!
With the exception of stock gifts, most of our favours are fresh and handmade to order. Our normal despatch times can range from 3-5 working days in normal non-busy periods, but can take up to 10 working days in busier seasonal periods. Please call to discuss should you require your items sooner for available delivery options.
Chocolates with
Great Taste
With lots of different gifts and favours to choose from, you are sure to find the perfect gift or treat! Whether it's our Traditional Gift Bags or cute Hot Chocolate Kits there is always something for everyone.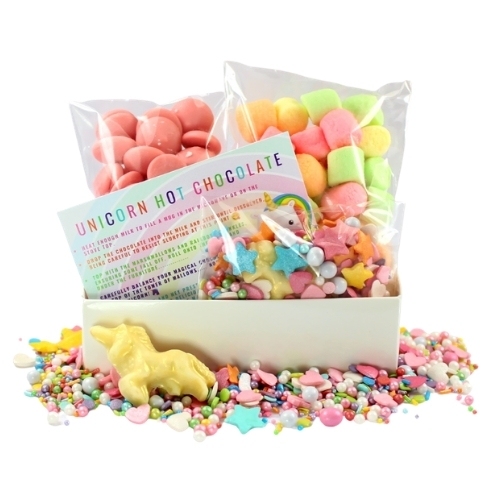 From our signature Mini Chocolate Cake Gift Boxes, Chocolate Covered Oreos and Pretzels, to our fun Hot Chocolate Kits, we stock lots of tasty gift boxes for every occasion!
Thank you for my beautiful chocolate parcel that my grandchildren will enjoy after lockdown.
Thank you so much for your amazing lollies for my son's 7th Birthday! They were fantastic and such a lovely little touch to his day.
Hey just wanted to drop a quick message to say thank you for our delivery today and a big thank you for our extra mini shark attack bar!! It was a lovely surprise and super kind 😊 stay safe x